Solstice
From ZineWiki
Jump to navigation
Jump to search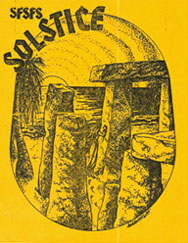 Solstice was a science fiction fanzine published by the South Florida Science Fiction Society.
The South Florida Science Fiction Society was started in 1985 by Joe Siclari and Nancy Atherton. The first issue of their clubzine, Solstice, was published in November 1985, and was edited by Pam Parsons. It featured articles, fiction, poetry, art work and interviews.
Contributors of artwork were Mike Cowart, Pamela Parsons, Jose Sanchez, Phil Tortoricci, and a cover by Gail Bennett. Beginning with an editorial by Pam Parsons, the fanzine featured the articles "Science Fiction and the Arms Race" by Gary O. Douglass, and "Goodness Gracious, Great Ball of Fire", by Greg Zentz; an interview with Gail Bennett was by Pam Parsons; fiction was by Chris Ceraolo, Peggy Genignani, and Barbara Tortoricci; and poetry by Dominick Fraument.
At least two more issues appeared in the 1980s. The South Florida Science Fiction Society also put out a newsletter called Shuttle.
In the 2000s, Joe Siclari began an on-line collection of fanzines called Fanac.org.
External Links