So, Why Worry?
From ZineWiki
Jump to navigation
Jump to search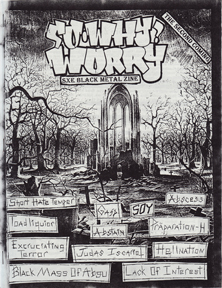 So, Why Worry? was a Straight Edge, Black Metal, Grindcore Hatezine created by Gil Russell in Texas during the 1990s, and year 2000. It was printed full page (8 1/2" x 11") and consists of four issues.
Issue #1 was created in 1996 and consists of 14 pages.
Issue #2 was created in 1997 and consists of 20 pages.
Issue #3 was created in 1998 - 1999, was printed on newsprint, and consists of 18 pages.
Issue #4 was created in 2000.
The zine was focused in black metal music and included extensive music reviews, interviews, comics, artwork, band and skateboard photography.