Skinhead Times
From ZineWiki
Jump to navigation
Jump to search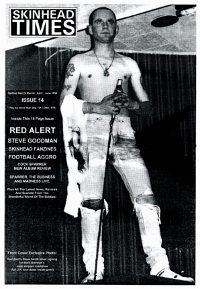 Skinhead Times, was a newsprint zine about the skinhead subculture published by George Marshall out of Scotland, UK during the 1990s.
Skinhead Times was tabloid size and printed on newsprint. The zine focused almost entirely on skinhead culture, featuring photos and articles about skinheads, as well as coverage of Oi! and street punk bands. The zine tried to remain non-political, stating on the cover it was "neither racist or red." Skinhead Times ceased publication in 1995.
The publishers also published or re-published quite a few books about skinhead history and culture under the name ST Publishing.