Sins of the Flesh
From ZineWiki
Jump to navigation
Jump to search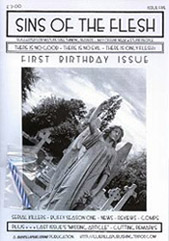 Sins of the Flesh is a Goth, Horror and Dark Fantasy fanzine edited by Rayne.
Sins of the Flesh is published in Leeds, UK, by Guerilla Publishing, and was launched April 22 at the Whitby Goth Fest. Five issues have been released.
Sins of the Flesh offers articles, essays, reviews of films, music, and books. Included are articles on psychic vampires, body Modification, Cenobites, and serial killers. Covered are horror films such Hellraiser, The Crow, and Interview With A Vampire, and television series such as Buffy the Vampire Slayer. Writers such as Poppy Z. Brite and Anne Rice are featured, and the music groups Sisters of Mercy.
Contributors include Necro Neil, editor of Necronomicon, writing on werewolves.
External Links