Rotortiller hausjunge
From ZineWiki
Jump to navigation
Jump to search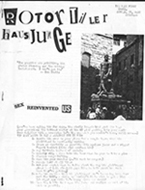 Rotortiller hausjunge was a zine published by Martin Nesvig from California, U.S.A.
Released in the late 1980's, Rotortiller hausjunge was a queer punk zine. Issue one featured appropriated images and short essays, including one on on sex, violence, philosophy and anarchy that was informed by a show by the band GWAR; erotic stories written by the editor; reviews of books such as Macho Sluts, by Pat Califia, Walking Through Clear Water in a Pool Painted Black by Cookie Mueller; shows by bands like Butthole Surfers; recordings by Steelpole Bathtub and Clock DVA; and zines such as Butt Ugly, Punk Beat and Punk Pals.
The feature of issue two was a work of erotic fiction by the editor complimented by appropriated images and intersected by other writing, both typed and handwritten, that seems to sometimes self-reflexively comment on the erotic story. This time the focus was on the merging of sexuality and sprituality. This issue is subtitled, "'Notebook of a Madman' dedicated to Nikolai Gogol".