Rocket Queen
From ZineWiki
Jump to navigation
Jump to search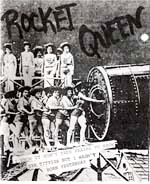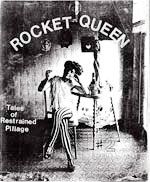 Rocket Queen was a perzine written in North Carolina and New Orleans.
Rocket Queen was written by Janet and comprises two issues.
Issue #1 is subtitled I Know it Don't Take Brains to Show Yer Titties But I Wasn't Born Yesterday and is about Janet's experiences stripping in North Carolina. The subtitle is attributed to an anonymous dancer that the author previously worked with. Sections include "Why do Women Strip?", "The Great Debate: Sacred Whore vs. Degraded Object", and "The Customers" (which is a look at strip joint customers as "types"), as well as advice to girls starting out in the business.
Issue #2 is about stripping in New Orleans and the sociology involved. It is subtitled Tales of Restrained Pillage. It contains a history of sex work in New Orleans and a resource guide to clubs in New Orleans from a dancer's perspective.