Release the Hounds RTH
From ZineWiki
Jump to navigation
Jump to search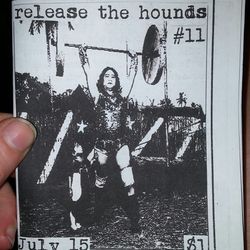 Release the Hounds RTH is a pell-mell black and white quarter-pager covering recipes, restaurant reviews, essays, tarot and philosophy (among other topics). New sections are added all the time, and content contribution is eagerly encouraged.
To subscribe, review, trade or contribute to RTH, message us your mailing address on Facebook or tweet us and we'll get you on the list. We DO send outside of the USA, and offer RTH free to inmates, rehabs, psych wards, libraries, distros, universities and group homes.
To support RTH, visit us on Patreon. You can also throw us a buck on Paypal or Google Wallet at rthmag@gmail.com.