Punk in my Vitamins?
From ZineWiki
Jump to navigation
Jump to search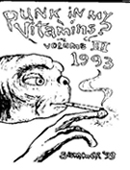 Punk in my Vitamins? was a zine from Olympia, Washington, U.S.A. by Vern Rumsey.
Produced in the 1990's, Punk in my Vitamins? was an eclectic zine. Issue two featured an interview with Nation of Ulysses and writing about coffee, smoking and donuts, and came with a cassette tape of the band KARP.
Issue three contained personal entries; stories; comics; song lyrics by the bands Mundt, Longhindlegs, and Krista's Boyfriend; interviews with Tiger Trap, and Todd of F.Y.P. and Recess Records; articles such as "Nicoteenager", on smoking, with reviews of cigarettes, and "Moustache Theory and the Physics of Evil" by Quitty; letters; illustrations; and reviews of recordings by bands such as Beefeater, Godsheadsilo, Hammerhead, Lync, Gravel, Karp, and The Yah Mos.
Contributors included Aaron Cometbus, Quitty, Jennifer, Tim, and Krista's Boyfriend.
Punk in my Vitamins? was also an audio cassette label and released cassettes to accompany the zine.
Punk in my Vitamins? is included in the Sophia Smith Collection at Smith College.
External Link