Picatrix
From ZineWiki
Jump to navigation
Jump to search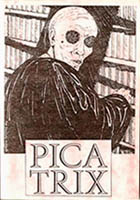 Picatrix is a literary zine by Chico Kidd, who frequently uses the pen name of A.F. Kidd.
Only one issue of Picatrix was published in 1992 in Ruislip, Middlesex, UK. it featured fantasy, horror and science fiction writing.
The cover was by A.F. Kidd. Interior illustrations were by Dallas Clive Goffin.
Contributors of writing included Michael Chislett, Dora Doyle, J.A. Hall, John Howard, Roger Johnson, Rick Kennett, Chico Kidd, D.F. Lewis (Nemonymous), Alan M. Marshall, Lyn McConchie, Edward Rand, Lawrence Richard, Adrian Robertson, David G. Rowlands, and William Smith.
Also included was the short story "The Violin" by James Parkhill-Rathbone, editor of Macabre, Scotland's first fanzine, published in 1939.
External Link