Panache
From ZineWiki
Jump to navigation
Jump to search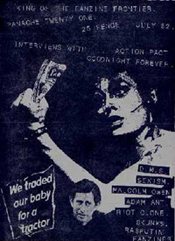 Panache was a punk and goth zine by Mick Mercer.
Panache was first published in November of 1976, one of the earliest punk zines emerging from London, England. It began with four editors who were friends, Mick Mercer, Paul Abey, Nick Bishop and Colin Ridgway. By issue ten or eleven, when the zine began to be distributed by Better Badges, Mercer became sole editor. Later the zine was done by Mercer and Kim Igoe of the band Action Pact. It was published until 1992.
The zine featured interviews by various writers, music writing, news, and photographs taken by Mercer, who also wrote for Record Mirror, ZigZag and Melody Maker, and who continues to take photographs of subcultures to this day, with several books to his credit. Panache focused on groups such as Throbbing Gristle, Adam Ant, Siouxsie and the Banshees, Penetration, Invisible Girls, Pauline Murray, Action Pact, and later, in the 1990's, groups like Daisy Chainsaw.
External Links