Out From The Shadows
From ZineWiki
Jump to navigation
Jump to search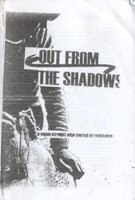 Out From the Shadows was a "vegan straight edge journal of resistance" from Ohio with a strong focus on anarcho-primitivism. It was the continuation of a discontinued zine named Encuentro.
It's stated purpose was "to reclaim vegan straight edge by further disconnecting from the contemporary hardcore and punk scene and creating stronger ties to resistance movements/communities/cultures and building support/praxis for such resistance within/outside our community."
The zine lasted 2 issues, after which the editor, growing increasingly jaded with the stagnation of the vegan straight edge scene, chose to move his writing in a different direction, releasing WARBOUND, a personal anarcho-primitivist zine in August of 2007. The continuing influence of straight edge is apparent in an article on the relation between addiction and civilization. Writing for a 3rd issue of xOFTSx was completed, namely an extensive critique of the Bring Back Prohibition movement, and supposedly will be available via the zine's myspace page.
Issues
Out From the Shadows #.5: April 2006. half size.
Out From the Shadows #1: July 2006. half size.
External Links