Operations Manual
From ZineWiki
Jump to navigation
Jump to search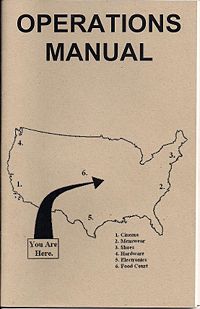 Operations Manual is a propaganda pamphlet, presented in a series of volumes, each issue attempts to cover its own ambiguous theme.
First published in 2004, shortly after the Bush administration rigged their second election, Operations Manual ran for only 6 issues before leaving the self-publishing world for unknown reasons. Operations Manual was primarily distributed to friends and friendly spaces in Kansas City, MO and various free-subscribers scattered around the country.
After an extended hiatus Operations Manual resumed publishing in Fall 2010, expanding distribution to include a couple dozen select bookstores, infoshops, and coffeeshops around the country.
In the Spring of 2013, Operations Manual began distribution through publisher and zine distro Pioneers Press, who now carry Operations Manuals Vol. X & XI and many of the buttons and stickers also created by the zine-maker.
Contact
P.O. Box 32824 Kansas City, MO 64171
External Links