No frills
From ZineWiki
Jump to navigation
Jump to search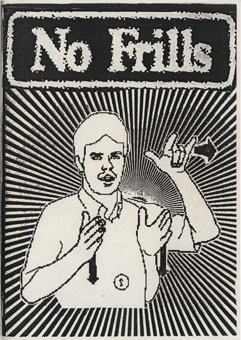 No frills (1998-2003) was a photocopied zine by Guy Sterling, published in over 10 sporadic issues in Sydney, NSW. The zine was "a collection of random findings, blatant appropriation and collages" and "a do-it-yourself guide to mayhem and mischief making, a humerous look at social issues and information on electronic/noise happenings, promoting local gigs and releases."[1]
Issues
The final issue came with a CD from people who had supported the zine, including:
1)556a-Bob's big bust
2)Refuz-clipped
3)Dj smallcock-unmeasurable
4)Maladroit-driven by what
5)7U?-he loves you
6)Null Object-I feel it
7)Sucidal Rap Orgy-blood clot lunch
8)pH-Lost
9)7U?-yeah
10)Composite of negatives-gRAVE
11)Quockenzocker-summer come lord!
12)Question Mark?-wide world of *****
13)Dj anal erection-Nu-Lo
14)Passenger of shit-bash a brick up my ****
15)Anti Kati-the battle for pidgyoto
16)Null Object-sir they have taken mr rimmer
17)Scruts with guns-liars and murderers
18)Zeitgeist-blood****er
19)Diablo Negro-lovesong
20)pH-creamia
21)Passenger of rizilli
22)Toecutter-sodomecstacy
External Links