Nightgaunt
From ZineWiki
Jump to navigation
Jump to search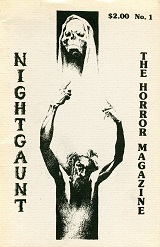 Nightgaunt was a literary horror zine edited and published by Bruce G. Hallenbeck from Valatie, New York, U.S.A.
The first issue was released in Spring 1982. It contained fiction, nonfiction, and poetry.
Contributors included Robert Bloch, Wes Cunningham, Stephen H. Donohue, Bruce G. Hallenbeck, Jeff Kahan, Chris Precious, and Serena.
Cover art was by D.W. Miller. Interior illustrations were by Scott Donohue and Barry Knight.