Mute Elation
From ZineWiki
Jump to navigation
Jump to search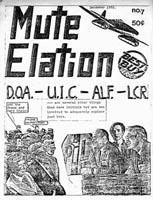 Mute Elation is a punk zine released by Pat Braun in the 1980s in Toronto, Ontario, Canada.
Mute Elation was a cut and paste, hand stapled zine put together by Pat Braun, Kevin O'Donnell, Roy Jervis, Anna Sargents, Jo-X, Johnny One-Eye and Little Reiny covering the punk scene.
The cover of issue seven, released in December 1985, listed the contents as D.O.A. - U.I.C. - A.L.F. - L.C.R. It featured photos and an interview with Ontario band U.I.C., with coverage of Canadians bands such as D.O.A., Fifth Column, The Garbagemen, Purple Toads, No Mind, Neon Rome, The Shadowy Men, and A Bunchofuckingoofs, as well as writing about international acts like Jesus and Mary Chain, PIL, and Lou Reed. Also included were articles on the A.L.F. (Animal Liberation Front); L.R.C. (Limited Cautionary Retaliation, a political term invented by Ronald Reagan's advisors during his Presidency); "Pacifism: A Suicidal Tendency"; "The Negative Image of Hardcore Fans in the Popular Media", as well as record reviews, poetry and an editorial.