Murder Can Be Fun
From ZineWiki
Jump to navigation
Jump to search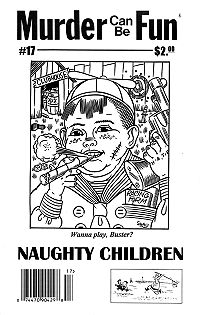 Murder Can Be Fun is the infamous zine of bizarre death, murder, mayhem, crime, disaster, weird books and even weirder people.
John Marr began publishing the zine in 1986 out of San Francisco, CA. This long-running zine has been in existence for more than twenty years. For each issue Marr painstakingly researches murders and deaths, documenting them in an entertaining way. Devoted to the "underside of human curiosity," topics have included postal massacres, Karen Carpenter's anorexia, assassination attempts on Andy Warhol, the Tacoma Narrows Bridge, historical cannibals, faith healing, Fatty Arbuckle, Cornell Woolrich's fiction, and many more bizarre subjects not often addressed in the mainstream media. This digest-size, photocopied zine started at 16 pages and grew to 48 pages in later issues.
Most of the first 16 issues included an eclectic mix of content, except #7 (sports) and #11 (disasters). Contents of specific issues included:
Issue 1: high school cheerleader murder, Thomas Thurmond's lynching, teen guilt novels, book and moview reviews.
Issue 11: I (heart) Disasters issue, featuring Al Hoff on a museum in St. Augustine, Florida, dedicated to tragedies, the Boston Molasses Flood, the Port Chicago Explosion, and other mishaps.
Issue 12: The Art of Murder, featuring Wallace/Qualtrough, cannibal Sawney Beane, murder connosseur Thomas de Quincey, 1989 San Francisco quake, and book reviews.
Issue 13: Death at Disneyland, sex criminal/train wrecker Sylvestre Matuschka, Munich street car/airplane collision, Harry Stephen Keeler, and book reviews.
Issue 14: Please Mr. Postman Don't Shoot! The cover story is an in-depth review of the shootings that coined the term "going postal," with in-depth statistics showing that employees are by far the true victims (targets) and how few civilians were killed or wounded. Also, "Riot On!," a brief history of riots in US history, "The Nashville Train Crash," "The Not-so-nice-world of Robert Cormier," "The Indiana Torture Slaying," and "Read Hard or Die," a 'recommended reading' list, if you will.
Issue 16: Zoo Deaths!, featuring a look at the results of what happens when man meets animal in cage, plus Lindbergh kidnapping revisionism, the Journal of Foresnics Sciences, and more.
Issue 17: Naughty Children, with tales of some of the naughtiest children ever, all from the days when kids supposedly were seen not heard (1642-1960). Articles included: It Had to Start Sometime (the first American youngster sent to the gallows); Those Are My Strawberries! (Hannah Ocuish, a 12-year-old sentenced to death for murder in the 1700s); When Spanking Wasn't Enough (highlights from other children executions); Don't Go Near the Water (childhood drownings); Choo Choo Crash Bang! (train wrecks caused by children); The Naughtiest Boy (Jesse Pomeroy, Boston's legendary "Boy Fiend" of the 1870s); Liar, Liar Pants on Fire (Louise Butler, accused in the 1920s of murdering her niece ); and Kids Say the Stupidest Things.
Issue 18: Sports Thrills, with bizarre and bloody tales not found in the sports section. Soccer riots, dead football players, extinct basketball teams, the 1900 Cal/Stanford football game.
Issue 19: Musical Mayhem. Articles included The Spade Cooley Stomp (the saga of Western Swing musician Cooley, who beat his wife to death); Dying for David Cassidy! (a 1974 concert stampede resulting in one girl's death and hundreds injured}; Hanging Around with the Band (the suicide of The Band's Richard Manuel); Frank Rosolino Was a Funny Guy (the jazz musician's murder/suicide); Rock N Roll Will Steal Your Soul (an appreciation of Jeff Godwin, "the literary rabid dog of the Christian anti-rock n roll movement"); Great Rock N Roll Deaths; and book reviews.
Issue 20: A Murder Can Be Fun Miscellany, featuring articles previously published elsewhere, including Death at Disneyland: Waiting in Line to Die 2007 (a revised, expanded, and updated version of an article from Issue #13); The Phantom High Roller (the true tale of an anonymous gambler who lost $1 million on a single roll of the dice in Las Vegas in 1984); The Denture Murder Case (about Josiah Bacon's death at the hand of Samuel Chalfant); A Jolly Good Hazing (fraternity deaths); Campanile Free Fall (suicides on the University of California Berkeley campus); Kidnapping Dos and Don'ts; Is Your Roommate a Serial Killer?; It's the Water (radical bombers who lived in the same house, decades apart); Mass Execution American Style; Medical Menaces; All Satan's Children (12-step programs); and Zines Are Dead.
Related publications include Murder Can Be Fun Presents: Anti-Sex Tips for Teens, Murder Can Be Fun Presents: Obscure Crime Books, and the annual Murder Can Be Fun Datebooks (1987-1997).
Murder Can Be Fun was featured in The Factsheet Five Zine Reader that was published in 1997, as well as in 1992's The World of Zines.
Murder Can Be Fun is included in the Sarah and Jen Wolfe Zine Collection at The University of Iowa and the West Coast Zine Collection at San Diego State University.
External Links