Mini Majellen
From ZineWiki
Jump to navigation
Jump to search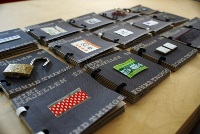 Mini Majellen (August 2005-) was one of the earlier zines produced by Sydney-based graphic designer, Michelle Vandermeer. The first issue was completed for the 2005 Brisbane Poetry After Dark Festival zine fair.
Subtitled Found Things, it was designed around the idea of objects and items picked up from city streets. Every copy of Mini Majellen: Found Things features an unique 'found' item glued to its front cover. Inside, the zine is composed of a collage of imagery found in old secondhand books (bought from charity stores and booksales) mixed digitally with scanned images of several street-sourced found objects. Each page suggests an interesting departure from everyday routine - as detailed on the last page of the zine:
"The idea behind Mini Majellen was to create a visual piece within certain creative boundaries. Whereas MM's big brother Majellen is completely unrestrained in its design, format and finishes, MM had to be created within 3 strict parameters: 1. Black-only print, able to be photocopied; 2. Printed on a single A3 sheet, cut and concertina-folded into a small 12-page book; 3. Created purely from found things. The source material, the paper, the binding - all were found. Objects and scraps of paper picked up off city streets, imagery found in secondhand books from charity booksales, items and ideas found within my own personal collection of ephemera and arty crap. These come together to encapsulate a single idea: what can you yourself find within the urban environment that surrounds you? Each page offers you a means to explore or participate with your city in new ways, compelling you to search out things just waiting to be found..."
Exhibited
2007
Zine factory, August - October 2007, Lewers House, Penrith Regional Gallery & The Lewer Bequest Mini Majellen: Found Things was featured in an exhibition of Australian zines, curated by Glenn Barkley. MM was also sold at the Spring Zine Fair (1 September 2007) that was held in conjunction with the exhibition.
2009
Avoiding Myth and Message: Australian Artists and the Literary World - April-July 2009, Museum of Contemporary Art (MCA) Sydney
Contact
Email: michelleav@hotmail.com
External Links