Meniscus
From ZineWiki
Jump to navigation
Jump to search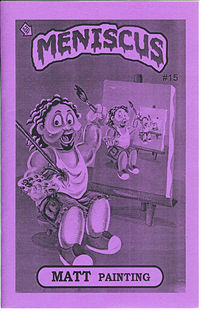 Meniscus is a perzine by Matt Fagan of Chicago, IL., U.S.A. As of October 2009, there are sixteen published issues. The zine started primarily as a fiction publication, but has veered further and further into perzine territory over the years (the first issue was published on April 20th, 1998). Most issues still contain fiction and/or comics in some proportion, but the perzine label fits. The fifteenth issue was published on November first, 2007, after a two-year hiatus, and the sixteenth issue was published the first of February, 2009.
Publication information typically refers to Meniscus as "An Entertainment Dedicated to Upholding the Rights of the Ugly, but Not the Stupid". Specific issues of the zine have had different slogans printed on the covers. The first issue read An Entertainment that Does not Fear Invisible Skin, the second issue An Entertainment for Immature Readers and the third An Entertainment for Certain Humans. Whether any of these labels informed or represented the content of the zines themselves is anybody's guess.
These first three digest-size issues were published in Portland, Oregon during the spring and summer of 1998, prior to Matt Fagan's move to Chicago, where he pursued a master's degree in writing. The fourth and fifth issues were assembled during his first year of graduate school, and were expanded to a larger magazine-size format. Issue four celebrated the size change with the cover announcement "Great Big Giant Supra-Terrific Party-Size Mega Issue of Fantasy!" and the slogan An Entertainment That Kisses Right on the Mouth! The fifth issue (An Entertainment Eschewed by the Elite and the Everyman) continued the larger format, but issue six (and all subsequent issues as well) returned to the digest size.
The real turning point for the zine came with issue eight, An Entertainment Desperately Trying to Convince Itself of Its Own Existence. Firmly planted in perzine territory, the sad, emotionally heavy entry bore little resemblance to the Portland issues of Meniscus, and while later issues have seen a much more lighthearted mingling of fact and fiction, the entity as a whole has never returned exclusively to its humor-oriented roots.
Issue Nine: An Entertainment that Swims Upstream in Circles
Issue Ten: An Entertainment of Awesome Destructive Power, Brought to Life by Mankind's Hubris
Issue Eleven: An Entertainment with One Foot in the Grave and the Other in Its Mouth
Issue Twelve: An Entertainment Up With Which We Shall Not Put
Issue Thirteen: An Entertainment that Said to the Universe...
Issue Fourteen: An Entertainment With No Regard for the Consequences
Issue Fifteen: Our Fifth Farewell Issue
Issue Sixteen: An Entertainment for the Bleak and Insufferable