Love, Chicago
From ZineWiki
Jump to navigation
Jump to search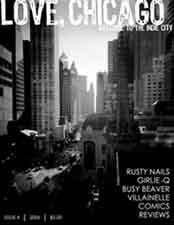 Love, Chicago was self-published as an 8.5-by-11-inch black and white zine in the winter of 2004 to spotlight Chicago's DIY/indie scene from bands and burlesque performers to ugly doll crafters and tattoo artists.
Founders Erica Burke (editorial) and Chris Beck (design) created four issues that were sold at Quimbys, Chicago Comics, Record Emporium, Laurie's Planet of Sound, Women and Children First and both Reckless Records locations before going exclusively online in 2007.
Love, Chicago profiled independent artists, businesspeople and events. In addition to features, the zine dedicated a reviews section to the work of bands, filmmakers, restaurants, websites and zines.
CONTRIBUTORS
Love, Chicago was made possible by a group of people, including, but not limited to: Chris Beck, Mike Segawa, J Burke, Phil Bellagamba, Aracely Hernandez, Adrian Finiak, Dave Pfluger, Bart Niedzialkowski, Grant Reynolds, Sarah Becan, Keith Helt, Diana Sheng, Jen Hazen, Jaime Swanson and all of the many contributors and advertisers.
EVENTS & AFFILIATIONS
Love, Chicago was part of the following events: Ephemera Zine Fest (DePaul Univ.); DIY Trunk Show (Pulaski Aud.); Chicago, IL US; Art to Zine Exhibit (Columbia College); Rock for Kids Charity Auction (Smartbar); Independent Press Association-Chicago; WLUW Record Fair (Pulaski Aud.); Intonation Festival (Union Park); Pitchfork Festival (Union Park); Printer's Ball (Museum of Contemporary Art); Renegade Craft Fair (Wicker Park); Lollapalooza (Grant Park); Zine Relaunch Party at Delilah's (featuring DJ Norah Utley of Shit Sandwich Records, WLUW Hump Day Dance Party and DJ Dave "Hoffa" Hofer (Punk Planet); and Web Relaunch Show at Reggie's (featuring M.O.T.O., The Effigies, MagnaFUx and Bone Tosser).

FRIENDS & CONTENTS
16 Sparrows, The Ponys, Tennis, Anyone?, Mr. Pickles, The Reputation, Even in Blackouts, Early to Bed, Hyde Park Records, Pink O Buttons, Love in Disguise, Snapcult, Smokeshield, Riot Act, Lauries Planet of Sound, Flirt Burlesque Cabaret, Franky Vivids Amazing, Burlectro Show, Status Quo, Thick Records, Soldiers R U.S., House of Monsters, 826CHI, Teen Chicago, Margies Candies, Chicago Kids Company, Marwen, Old Town School of Folk Music, Uncle Fun, Hostage Radio, Pitchfork Media, Transform, Threadless, Pistil, DIY Trunk Show, Bang! Bang!, New Black, Chin Up Chin Up, Burning Bright (RIP), Joan of Arc, Kelly Hogan, Tres Femmes, Stoli and Call Girl PR, Schubas, Una Maes Freak Boutique, Renegade Craft Fair, Stage Left Theatre, Women and Children First, The Cake Girls, Gapers Block, Neighborhoodies, Venus Zine, Polyvinyl, M.O.T.O., Vive La Femme, The Blue Meanies, Gasoline Fight, The Safes, The Tracks, The Tossers, Bloodshot Records, Nina, Penelopes, Devin Davis, David Head, Esther Garcia, Sam Hunt, Via Nuon, Foundation Gallery (RIP), Echo Gallery, Jakes Pub, Punk Rock Reviews, Kitty Magik, Rinky Dink Inc. (RIP), Windy City Records, WLUW Record Fair, Misstress Crimson, Big Delicious Planet, Busy Beaver Buttons, Nora Utley, Shit Sandwich, Headache City, Sheriff Peanut, Skafest Midwest, Jump Up, Punk Planet, Girlie-Q Variety Hour, Villainelle, Ras Dashen, MoJoe's Cafe Lounge, Garlic & Chili Healthy Thai Cuisine, Sushi Para II, Cafe 28, Salud, Rusty Nails, Movieside, New Eye, Reckless Records, Quimbys, Chicago Comics, Metro, Book Cellar, Hard Boiled, Record Emporium, Loop Distro, Radio Free Chicago, Grant Reynolds, UR Chicago, Illinois Entertainer, Chicagomuzik, Independent Press Association, Rock for Kids, Columbia College, Ephemera Zine Fest, Gutters, Kiku, Windy City Rollers, The Daley Show, Meetro, Girlie-Q Variety Hour, Albert Roman, Bill Vaccaro, Sarah Becan, Tusk, Atomic Mama, Shawnimals, Psycho Baby, Burn Collector, Al Burian, Jessica Hopper, Hit it or Quit it, Proof that I Exist, Ohmyrockness, Holy Roman Empire, Bound Stems, WLUW, Chicago Architecture Foundation, Chicago Historical Society, Hot Dougs, Superdawg, Weiners Circle, Jean & Judes Red Hot Stand, Meyers Deli, Delilahs, Danielle Sander, Revolution Tattoo, Big Hair, Victory Records, Delilah's, Bodyart By Allison, Intonation, Pitchfork, Insight Tattoo, Wolfbait and B-Girls, The Northern Star, The Columbia Chronicle, Northwestern University, Southern Records.

PRESS
Love, Chicago received accolades from key publications including Illinois Entertainer, UR Chicago, Punk Planet, Venus Zine, The Northern Star, Gapers Block and Loop Distro.
• "The writers obviously care about their pieces, so a lot is invested in their quality. And there's something very Chicago about that." –Punk Planet, No. 70
• "Love, Chicago covers a niche overlooked by publications such as the Reader and TimeOut Chicago." –Illinois Entertainer , November 2005.
• "Challenging the cliche that all art comes from the coasts, the second issue of Love, Chicago picks up where the first left off in showcasing the Windy City's vibrant independent scene." –Venus Zine (online)
• "This black-and-white zine is as close as you can get to a magazine without being shunned by do-it-yourselfers." –UR Chicago
• "Love, Chicago provides excellent interviews, strong production values, high writing standards, and undeniable civic pride. It's not scraped together and brims with sincerity." –Punk Planet, No. 68
• "Articles and stories would be of interest to any audience, but for Chicago residents its especially fun to read, as you will most likely find a name or place in here that you are already familiar with." –Loop Distro (online)
• "A neat little zine deserving of your time." –Gapers Block (online)

BEFORE & AFTER
Founder/co-publisher and editorial director Erica Burke began publishing zines when she was a freshman in j-school around 1997. "The first zine I ever saw was from a guy my friend worked with at the local record store," Burke said. "It was laying on the floor in her bathroom. It was all tongue-in-cheek dude-bro stuff and some record reviews. I was like, wow. I need to be doing this."
Her M.O. was to take what she learned through journalism classes and writing for the school newspaper – and later in the corporate publishing world – and apply it to her DIY zine projects "So I could write what my friends and I wanted to read about, but do so in a more organized fashion that included bringing on contributors, developing distro and even pursuing ad revenue. Not that the revenue ever poured in, but at least we sort of looked like we were quasi-legit."
Hush Kitty Nos. 1 and 2, which she cut, pasted and photocopied using her college employer's machine, paper and staples, were given away for free at school. "'2011: The Revenge of Print' is this challenge for old zinesters to print 'the next issue' that never was," she said. "So there will be a third issue of 'Hush Kitty' in 2011 featuring old and new contributors."
Love, Chicago, which she founded in 2004, was inspired by living in a city bursting at the seams with creatives. "I was freelancing for Venus Zine, Punk Planet and Innerview a lot during that time and covering a boatload of local bands and artists," she said. "I finally felt comfortable enough in my abilities to manage a magazine and had enough contacts in the zine/music/art world to launch sort of a love letter from the city that basically big upped the artist community," Burke said. "I learned so much. I met so many amazing people – lifelong friends, really. I cherish that time in my life."
After five exciting years, it fizzled out in 2009 after her move out of Chicago, a new job and motherhood. "You can't run a Chicago zine at your house 50 miles from the city – I wasn't about to call it in," Burke said. "I wasn't heartbroken. Love, Chicago ran its course. We ended it with a bang at Reggie's. Meanwhile, I became a mom, which is like the coolest gig in the world and incredibly inspirational."
Today, Burke manages a niche magazine in the northwest suburbs, runs Mommy's Alright – an alternative mom blog, and in addition to taking on the Revenge of Print challenge in 2011, plans on publishing children's books with her illustrator husband and running zine workshops for teens in the burbs. "I think kids today – particularly teen girls and LGBT kids – need access to zines and the encouragement to create their own. Zines are a safe place to get their voices heard, their art seen and feelings validated."