Livin' La Vida Autism
From ZineWiki
Jump to navigation
Jump to search
Livin' La Vida Autism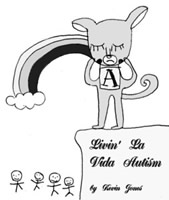 Livin' La Vida Autism is a 24 page perzine self-published by Kevin Jones to help him raise money to see a psychiatrist. It is a sad story of living with autism but having nowhere and no one to turn to for help and not even having one friend.
"I have autism and I suffer everyday from being born with impaired social skills. I never had any friends, can't find a job, and can't even afford to seek counseling. What's a guy with autism supposed to do around here to get some support?" from Livin' La Vida Autism, back cover.
"Love is supposed to be beautiful, but it's not beautiful if you never get any." from Livin' La Vida Autism, p. 15.
Contact
kevinjones@livinlavidaautism.com