Last Resort
From ZineWiki
Jump to navigation
Jump to search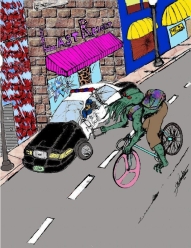 Last Resort is an anarchist zine from Miami, Florida, U.S.A.
Besides a printed zine, one of the editors, Maria from Miami, also publishes a website for the zine, which features this description of Last Resort:
...is a semi-political zine by and about (but not exclusively for) anarchists, radicals and anti-authoritarians living in Florida, chock full o' fun-filled action-packed anarchy-infused drama-generating essays, poetry, report-backs, scene reports, book reports, lists, letters, press releases, doodles, incriminating photos and MS Paint masterpieces from some of the best Florida has to offer , printed in full-color on glossy-ass paper (except for issue 1). This zine aims to reflect/document local struggles and projects and various aspects of FL's anarchist/activist communities, as well as provide a creative venue for radicals."
Originally published by Maria from Miami, who has previously published the perzine Little River, "Last Resort" has evolved into a (currently) 3-person art/writing collective, who will likely be creating a Raleigh/North Carolina edition of the zine once 2 of the members relocate there in February/March of '08.
External Link