LISFAN Monthly
From ZineWiki
Jump to navigation
Jump to search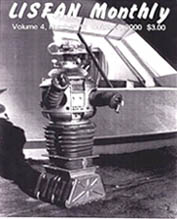 LISFAN Monthly is a fanzine by Flint Mitchell dedicated to the Lost in Space (LIS) science fiction television series.
The first issue was published in 1981. LISFAN Monthly included news clippings, LIS conventions 1999-2000, related photos, and more. Also included is information on building your own Lost In Space Robot.
Interviews and featured with Marcel Hillaire, Jack Johnson, Gene Polito, Ezra Stone. Simon Wincelberg, and Franzine York, in various issues.
Contributors have included Tom Blake, Mike Suzor, and Robert Vanderpool, among others.
External Links