Koekrant
From ZineWiki
Jump to navigation
Jump to search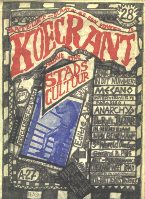 Koekrant was a punk zine from Amsterdam, the Netherlands.
Koekrant was written by Diana Ozon and Hugo Kaagman between 1977 and 1984. It was a punk zine and, like its contemporaries at the time, covered the punk scene and music in Amsterdam with the notable difference being that Koekrant featured literary work as well. The cover sometimes had stencilwork as well as being photocopied. It was also sometimes written under a different name such as Koecrandt, Coekrandt, Koekkrant, Koekrand, and Coekrant.
Years later the Nieuwe Koekrant was released by Johan van Leeuwen which lasted several years. In total there were more than a hundred issues of Koekrant written.