Kissoff
From ZineWiki
Jump to navigation
Jump to search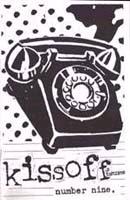 Kissoff is a typwritten punk zine by Chris Landry, formerly of Ottawa, Ontario, Canada, now published in Toronto, Ontario, Canada.
Chris tackles a wide range of subjects, including his struggle to quit smoking, his travels in Australia and in South Africa, hanging out with friends, taking photographs, along with more punk-related anecdotes. In 2005, Kiss Off was nominated for a Golden Cherry Award for Best Zine.
Selections from Kissoff were reprinted in volume nine of Zine Yearbook, published in 2008.
External Links