Kill Your Pet Puppy
From ZineWiki
Jump to navigation
Jump to search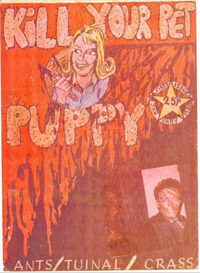 Kill Your Pet Puppy is a zine from London, England.
After leaving his previous zine, Ripped & Torn, in the hands of a new editor, Tony D launched his next publication, Kill Your Pet Puppy. The first issue was released in 1979. The focus of this new zine was on the anarcho-punk and goth scenes emerging at the time, and was informed by Anarchist and Situationist theories. The bands featured included Bauhaus, Crass, The Mob, Sex Gang Children, Southern Death Cult, The Associates, The Ants, and Alien Sex Fiend. Articles embraced a range of topics and included titles such as "Magick and Anarchy", "In Praise of Stupid Songs", "Gay Punks", "Sid Vicious Memorial Day" and issues such as feminism, squatting and the occult. The zine was written by a fluctuating group of twelve members of the Puppy Collective, as they were known. The members included, among others, Tony D, Alastair Livingstone, Kilty McGuire, Cory Spondence, Jeremy Gluck and Val Not-A-Puppy. It was distributed by Better Badges.
The Puppy Collective were also involved with Wapping Autonomy Centre, an anarchist centre opened from 1981 till 1982, where bands such as Crass, Conflict, Hagar The Womb, and The Apostles played. After this centre closed they were involved with the Centro Iberica Anarchist Centre in 1982, the Black Sheep Housing Co-Op and the Stonehenge Free Festivals of '82, '83, and '84.
Six issues of Kill Your Pet Puppy were produced between the years of 1979 and 1984.
External links