Kickstand
From ZineWiki
Jump to navigation
Jump to search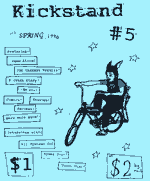 Kickstand was a zine by Arianne Foulks of Seattle, WA., U.S.A.
The zine featured reviews of little-heard indie music, along with a wide variety of interviews, stories, and other writings. Articles included stories about manatees, learning to play guitar, and being a packrat. The tenth and last issue was published November 13, 1998.
Kickstand is included in the Sarah and Jen Wolfe Zine Collection at The University of Iowa.
To Order
External Links