Jolt
From ZineWiki
Jump to navigation
Jump to search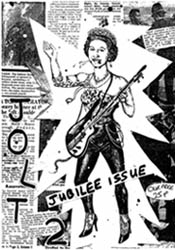 Jolt was a punk zine by Lucy Toothpaste.
Jolt was published in the 1970s in the UK. The first issue appeared in 1977.
Lucy Toothpaste focused on the women musicians in the punk scene. In an interview by Cazz Blase for The F-Word of May 2011, she said, ""My fanzine came from absolute excitement about the music and about the way things seemed to have cracked open. There was space for anybody to do whatever they wanted, including girls. You know, boys could get up on the stage who couldn't play their guitar and that meant that girls could get up onstage who couldn't play guitar either, so it was very, very democratic do it yourself stuff. I loved all of that." Musicians mentioned in the first issue included Siouxsie Sioux, Patti Smith, Ellie, of Stinky Toys, and The Runaways. Also featured was the article "Great Punks in History No. 1: Valerie Solanas", with excerpts from The SCUM Manifesto.
The second issue featured the first interview with The Slits immediately after they had appeared in the tabloid News of the World expose of the 'shocking world of punk rock'. The Slits boast that everything that had told the News of the World interviewer was made up:
"Lucy: Were you angry about The News Of The World Interview ? Slits: Yes. The woman who came to interview us was so stupid, so stiff and posh. She just wanted drugs, sex & violence, so that's what we gave her. We were just taking the piss out of her."
The third issue featured an interview with Poly Styrene, from the band X-Ray Spex, and the Buzzcocks.
Lucy Toothpaste, now Lucy Whitman, continued writing for a number of publications after ending her zine.
External Links