Johnny America
From ZineWiki
Jump to navigation
Jump to search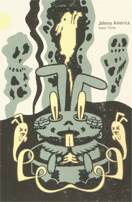 Johnny America is a zine of fiction, humor, and miscellaneous items reviewed. It has been published by the Moon Rabbit Drinking Club & Benevolence Society since 2003. It is known for its high-quality writing and production (e.g. one issue's cover glowed in the dark).
Issue 4 displayed two unusual forms of writing. The first tells a story through lists. The second tells a story through a romance classified ad. There is a wide variety of subject matter in this issue that also includes lover conflict stories, zombie stories, assorted single problem stories, and fables.
The introduction explains who Johnny America is: "Johnny America is a svelte rabbit who lives in a bungalow on the Moon between two rivers of wine (one red, one white). Some afternoons he helps plow the cheese fields - to earn extra money for carrots - but usually he's in the valley cut by the Mercer, and Mancini Rivers, idling. He spends most of his days lounging against a low crater, fishing rod in paw. The fish on the Moon are constantly drunk and easy to catch. They look almost exactly like bass, but taste of marmalade. From time to time Johnny casts his line toward Earth, slides down the filament, and calls a meeting of the Moon Rabbit Drinking Club and Benevolence Society...."
External Link