Jiffy zine
From ZineWiki
Jump to navigation
Jump to search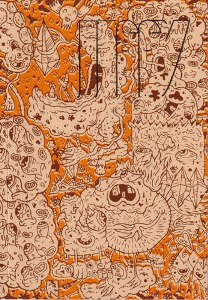 Jiffy zine (2007-) is an art, design, illustration and photography zine edited and published by Adelaide, SA based illustrator Rowan Tedge and designer Simon Blight.
Tedge describes the aim of Jiffy zine as being: "low budget, high design. With attention to detail given to stock selection and finish, giving jiffy a hand made, D.I.Y feel."
Description
48 black and white pages, hand silkscreened three colour cover, pefect bound, printed in an edition of 100 numbered copies.
Issues
No.1: features contributions from Rowan Tedge, Ian Steverson, Jon Burgerman, Max Olijnyk, Shoboshobo, KAB101, Andrew Long, Jeremyville, slok, ALAS76 and Alex Barry. Cover by Rowan Tedge, screenprinted by Jolan Lisle-Oakley at PRINTSQUAD.
No. 2: features contributions from David Shrigley, Fontaine Anderson, Blotchwomen, Ian Stevenson, Eleanor Yap, Eric Shaw, Bob London, Jeremy Piert, Dean Sullivan aka AEIOU, Rowan Tedge and Andrew Long.
Stockists
Metropolis Books (Melbourne, VIC)
Monster Children Gallery (Sydney, NSW)
The Outpost (Brisbane, QLD)
Keith and Lottie (Perth, WA)
Area101 (Adelaide, SA)
Irving Baby (Adelaide, SA)
External Links