Indecent Exposures
From ZineWiki
Jump to navigation
Jump to search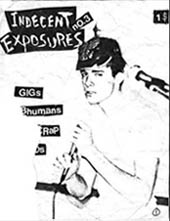 Indecent Exposure is a punk zine by Tom Hooper.
Published in Kelowna, British Columbia, Canada, Indecent Exposures covers the punk scene of the early 1980s.
Editor Tom Hooper was a member of the band Gentlemen of Horror, and his fanzine covers local shows and events, plus interviews and photos of hardcore and punk bands.
Issue one was published in 1981.
Issue two, from 1982, featured an interview with Empty Set, and featured the local bands Slauter Squad, Sick Society, American bands Dead Kennedys and Black Flag, and coverage of the latest Gentlemen of Horror events, such as their show at the Penticton Library.
Issue three featured the Subhumans, among other bands.
Contributors included Chris Hooper, and Kevin Kane, fellow Gentlemen of Horror bandmates.