I Dreamed I Was Assertive
From ZineWiki
Jump to navigation
Jump to search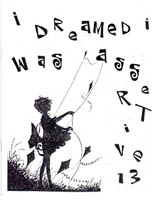 I Dreamed I Was Assertive is a long-running perzine written by Celia Perez.
At least thirteen issues have been released. Celia Perez writes about a wide range of topics, among them race, her son, soccer, being a librarian, books, public transportation, her collections, what she did on her birthday, and numerous other topics.
Celia has published a number of other zines including Picaflor--two issues, Words That Soak Up Life, Skate Tough You Little Girls, and A Miscellaneous History of Common Experiments.