Get Fokt
From ZineWiki
Jump to navigation
Jump to search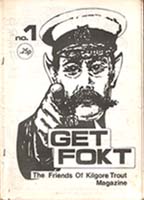 Get Fokt was a science fiction fanzine put out by The Friends of Kilgore Trout.
"Kilgore Trout" is a character in the novels of Kurt Vonnegut which this Glascow, Scotland, group of sf fans had named themselves after. The group consisted of around thirty members, and of out of this group it was Sandy Brown, Bill Carlin, Kevin Clark, Jimmy Robertson, and Bob Shaw who began publishing Get Fokt in October, 1977, with 'the fake Bob Shaw', as he was known in sf fandom, as editor. This nickname was used to differentiate him from his famous namesake.
Contributors included Stan Firth, Jimmy Robertson and Bob Shaw.
Artwork was contributed by Jim Barker, Ed Buckley, George Emery, Stan Firth, D. McG., Jim Mullen, Bob Shaw, and Judy Watson.