From A to Zine: Building a Winning Zine Collection in Your Library
From ZineWiki
Jump to navigation
Jump to search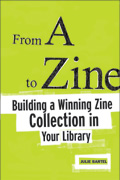 From A to Zine: Building a Winning Zine Collection in Your Library is a comprehensive guide to starting and organizing a zine collection within a library, published by the American Library Association in 2004. The book was written by Julie Bartel, who at the time of its publication was the founder and coordinator of the Salt Lake City Public Library Zine Collection. The book instructs librarians on the history and philosophy of zines, discusses the validity of zines within library collections (within the context of intellectual freedom and the Library Bill of Rights), and offers advice on where to find zines, how to organize and catalog zines, and how to promote the collection.
Summary: "Teen and young adult librarians, high school media specialists, academic librarians, and reference and adult services librarians will find the answers to their questions about this new and growing literary genre, including what defines a zine, the pros and cons of developing a zine collection, and best practices to promote, catalog, and display zines in your library."--BOOK JACKET.
Contents:
Part I: Philosophy, Arguments, and Background
1. Welcome to the World of Zines
2. Zine Culture 101
3. Intellectual Freedom, the Library Bill of Rights, and Zines
4. To Collect or Not to Collect: The Whys and Wherefores
5. The Salt Lake City Public Library Zine Collection
Part II: Zine Collections: A Do-It-Yourself Guide
6. Getting Started
7. What Do You Do with Them Once You've Got Them?
8. Living Arrangements
9. Spreading the Word
10. Programming and Outreach
Part III: Beyond the Printed Word
11. Electronic Zine Culture: E-Zines, Blogs, and More
Part IV: Appendixes
A. Further Information
B. How to Start Your Own Zine
C. Review Zines
D. Distros
E. Zine Fairs and Conferences
F. Zine Libraries
G. Stores That Carry Zines
H. Recommended Reading