Forgotten Zine Archive
From ZineWiki
Jump to navigation
Jump to search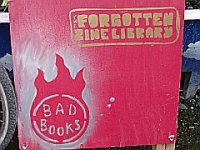 The Forgotten Zine Archive is a collection of over 1,200 zines and related print material – self-published writings and art, radical newsprint, and alternative press that seeks to document the existence of zines from Ireland. The Archive is located in Dublin, Ireland. The Forgotten Zine Archive is a record of production of particular types of niche literature over the past twenty years in Ireland.
History
The archive started out of the Warehouse Space in North Strand, Dublin. This was a rented warehouse where several people from the Dublin DIY punk and independent scene lived. Ciaran (who used to write Scream and Niacin) was involved in starting the Archive and collecting the fanzines. The archive soon grew through large donations from a number of individuals and opened to the public in March 2004 as part of Sunday events in the space. After the Warehouse closed in August 2005, The Forgotten Zine Archive went into storage before reopening at Seomra Spraoi when Seomra Spraoi was located at Abbey Street, Dublin. Due to the rising costs of rent, Seomra Spraoi in Abbey Street closed and for several months the Archive was once again in storage. In July 2007, Seomra Spraoi got a new space near Capel Street in Dublin and after two months the archive moved there.
The Forgotten Zine Archive has donated the entire Irish section of the Archive to artist Sarah Pierce's Monk's Garden project, as part of Ireland's representation at the 2005 Venice Biennale and has worked again with her for her part in the follow up show in the Glucksman Gallery, Cork in March 2006, curating a selection of Irish zines for display and reading. Ciaran together with Anto from Loserdom organised Zine Show at the Anthology Bookshop in Temple Bar in Dublin. He also organised small thematic zine exhibits to coincide with Pride Dublin and the Docklands City Cycle, in June 2006.
External links