For Whale Ears Only
From ZineWiki
Jump to navigation
Jump to search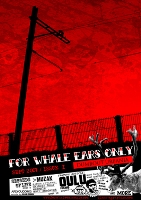 For Whale Ears Only (also known as FWEO) is a monthly zine based in Amsterdam.
Description
The editors describe their zine as "dumbout urbania". Basically, FWEO aims at being interesting to look at with a complete mash of photos, drawings, and text. It takes a little effort to get everything off the page.
Itis published in black & white, but on the website you can read most pages in color.
Contact
Comments, wedding invitations, and pics of north korea can be sent to abe@forwhaleearsonly.com
External Links