Fanzines (book)
From ZineWiki
Jump to navigation
Jump to search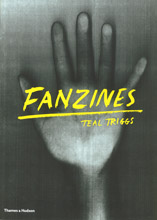 Fanzines is a book by U.K.-based U.S. zine collector / researcher, Professor Teal Triggs. It was first published in the U.K. in 2010, with a U.S. edition released later that year by Chronicle Books.
The book features over 750 images of zines and covers their history, from their inception as science fiction fan publications in the 1930s, to the comic fanzines of the 1950s and 60s, to their role in defining the 1970s punk scene, as well as the Riot Grrrl scene of the 1990s.
Triggs herself is a fanzine collector and is Professor of Graphic Design and Co-Director of the research unit for Information Environments at the University of the Arts London.
Controversy
The book received significant criticism online from current and former zine publishers, due to the author failing to obtain permissions to reprint many of the images included in the zine, credited some images incorrectly and including factual errors.
Other publications by Triggs
Communicating Design: Essays in Visual Communication
The Typographical Experiment: Radical Innovation in Contemporary Type Design
External links