Fallopian falafel
From ZineWiki
Jump to navigation
Jump to search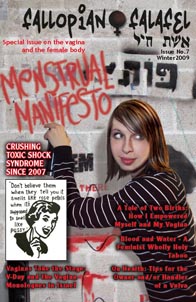 Fallopian Falafel (also named Eshet Chayil) was a Jerusalem-based feminist compilation zine published by Hadass S. Ben-Ari. The publication ran between 2007 and 2011, and published 16 issues. The zine was mostly in English but contained a few articles or poems in French and Hebrew.
The zine was about feminism and Riot Grrrl culture, and covered different topics pertaining to women.
The issues are:
Issue 1 (Intro issue)
Issue 2 on homosexuality
Issue 3 on women in religion
Issue 4 on women in music and International Women's Day
Issue 5 on true beauty and body image
Issue 6 on women in pop culture
Issue 7 on the female body
Issue 8 on relationships
Issue 9 on pregnancy and abortion
Issue 10 on sexual violence
Issue 11 on breasts
Issue 12 on virginity
Issue 13 on DIY
Issue 14 on career women
Issue 15 on feminist men
Issue 16 on Grrrlvirus
Every issue included a column called "Riot Grrrl Corner" featuring a Riot Grrrl group and included lyrics to one of their songs that relates to the topic of the respective issue.
External Links