Fallopian falafel
From ZineWiki
Jump to navigation
Jump to search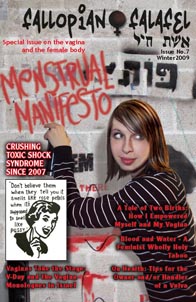 Fallopian Falafel (also named Eshet Chayil) is a Jerusalem-based feminist fanzine written by Hadass S. Ben-Ari. The publication is essentially in English but may contain a few articles or poems in French and Hebrew.
The zine deals mostly with feminism and Riot Grrrl culture, and covers different topics pertaining to women, within different issues such as pregnancy, pop culture, music, female body, religion, etc.
Every issue includes a column called "Riot Grrrl Corner," featuring a Riot Grrrl group and includes lyrics to one of their songs that may relate to the topic that the respective issue focuses on.
The zine is open to contributions from all feminists or feminist-friendly writers, artists, poets, musicians, punk rockers, and other DIY-driven creators.
External Links