Eye Of Harmony
From ZineWiki
Jump to navigation
Jump to search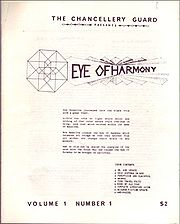 Eye Of Harmony was a media science fiction fanzine published by The Chancellery Guard.
Eye Of Harmony was devoted to the television series Dr. Who. The first issue appeared in 1979, followed by the second issue the same year. Two more issues were subsequently released in 1980, the last issue in October 1980.
The fanzine featured articles, reviews, essays, news, an reports on conventions. Each issue included the column "Eric Hoffman on Who". Also included was fiction by Susan Garrett, and Eric Hoffman, among others.