Eric Blair
From ZineWiki
Jump to navigation
Jump to search
Eric Blair was born in the fall of 1982. In 2002 he co-created the Salt Lake City, UT publication Chiaroscuro. He is also a member of the experimental music trio The Samuel Powers Rhythm 3. The S.P.R.3 have released four cds in conjunction with Chiaroscuro. 1) The CD of the Absurd; 2) The CD of the Obscuro; 3) The CD of the Dead Format; 4) The CD of the Superfluous. The 36th issue included a DVD known as "Straight to DVD." Chiaroscuro has been nominated for an "ARTY" by The Salt Lake City Weekly three times; in 2010, 2012, and 2013. They are yet to win. As of March 2013 39 issues of Chiaroscuro have been published.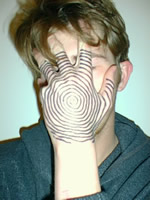 Eric Blair performed spoken word at the 2005, 2007 and 2008 Dark Arts Festivals and once at Cabaret Voltage. He performed a short rant at The 2010 Alternative Press Festival with the help of The VCR5. As one member of The S.P.R.3 he has also performed at Salt Lake's all-ages venue Kilby Court. He has a tendency to have his microphone cut, sometimes it's on purpose.
He has been published in the 4th and 5th issues of It Takes All Kinds. He was the "Associate Editor" of the 3rd issue of Bradley Sands' Bust Down the Door and Eat All the Chickens. His work was featured in four of six issues of Negative Space. He wrote "Forrest Gump" for Titular Journal and "Abacus Sundial" for Thieves Jargon. For a few months in early 2008 he wrote for and helped edit SLUG Magazine.
He's been on Brian Staker's The Awkward Hour podcast multiple times, on his third appearance he turned the tables and interviewed the host. Mr. Staker also interviewed Eric Blair for the December 2003 issue of SLUG Magazine and has contributed to Chiaroscuro on occasion. In April 2013 he performed at Brian's Awkward Festival with the help of a rock-noise-blues outfit known as The Dirty Spoons.
He enjoys making background pages as much as he enjoys writing for Chiaroscuro.
The Salt Lake City Weekly publicized him here: http://www.cityweekly.net/utah/article-13693-wes-sadler-co-publisher-of-chiaroscuro.html
And again here: http://www.cityweekly.net/utah/blog-70-8309-chiaroscuro.html
Zines
Contributions
External links