Dangerous Rhythms
From ZineWiki
Jump to navigation
Jump to search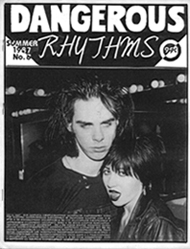 Dangerous Rhythms was a zine devoted to music published by Gene Temesey.
Dangerous Rhythms was published in Piscataway, New Jersey, U.S.A. and came out in the 1980s. Issue 4 was released in 1984, issue 6 appeared in 1985/1986, issue 7 in Fall 1986, issue 8 in 1987, and issue 10 in Summer 1989. The zine included photographs, concert and record reviews, articles, essays, and interviews of bands from varying genres, including punk, post-punk, hardcore, and other alternative types of music.
Included were features on bands and performers such as Nick Cave and the Bad Seeds, Crime and the City Solution, The Cure, Das Yahoos, The Mob, Redd Kross, and The Skulls. among others.
Featured on various covers were performers such as John Lydon, Lydia Lunch, and Nick Cave.
External Links