Damaged Mentality
From ZineWiki
Jump to navigation
Jump to search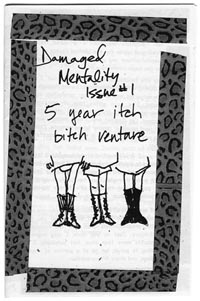 Damaged Mentality a zine written, created & self published by Synthia Nicole, which touches on mental and physical issues of the author post injury.
Issue #1 was produced in 2009 and was subtitled "5 Year Itch Bitch Venture". In this publication the author talks about the difficulties faced post-injury as she struggles with relationships and recovery. Issue #2 recalling when in the hospital. Issue #3 subtitled "Sugar Imbalance & an Addictive Personality". This is the last zine I wrote before deciding going into recovery, for alcoholism, would be a good path for me. Issue #4 wheelchair express issue. includes a tofu-carrot cacciatore recipe. Issue #5 contains an ode to my dog, BenAli & other honest, intimate admissions. Issue #6 includes a 'Gado Gado'(Vegetables and Tempeh with Peanut and Coconut)recipe along with a humiliating experience in an attempt to obtain a Dr.'s signature. Issue #7 is subtitles "I.U.D.ities (uterine device stories & more); 3 f'd up incidents having to do with MY i.u.d.
Between 2009 and 2015 there have been 7 issues created & self pulished. Synthia has also contributed to several books.
The zines are available from Mend My Dress distro. Boneshaker Books in Minneapolis, Eat My Words Bookstore in Minneapolis, Bluestockings in New York & Quimby's Bookstore in Chicago.
External Links
https://www.tumblr.com/blog/synthianicole
Contributions: http://www.goodreads.com/book/show/17802349-alive-with-vigor
Specifically #2.5 - http://deirdreedarling.wordpress.com/2013/10/06/damagedmentality/