Damage
From ZineWiki
Jump to navigation
Jump to search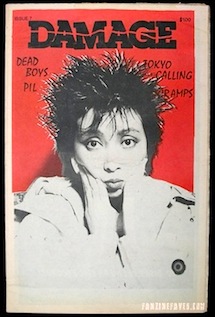 Damage was a punk fanzine published by Brad Lupin in San Francisco, California, U.S.A.
Released from 1979 till 1981, thirteen issues were released.
Issue 1 featured Jello Biafra on the cover, with articles on The Bags, Noh Mercy, MX 80 Sound, X, and others.
Issue 2 featured Patricia Bag on the cover.
Issue 3 was a special "Riot on the Western Front" issue, given away free in California.
Issue 4 was released January 1980.
issue 6, released May 1980, featured Sally Mutant of The Mutants on the cover, and articles on John Cale, Lene Lovich, the Santa Fe Prison Riot of 1980, and a feature on the new generation of Performance Artists in San Francisco.
Issue 7, released July 1980, featured Chica Sato of The Plastics on the cover, and articles on The Cramps, PiL, The Dead Boys and a feature on Japan's Punk and New Wave scene.
Issue 8, released August 1980, featured The Gang of Four on the cover, with articles on The Undertones, PiL, and Crime.
Issue 9 featured Tuxedomoon on the cover, with articles on Curt McDowell and Stiff Little Fingers, plus summer supplements devoted to fiction and fashion.
In between 9 and 10 was a "Western Front 1980" special supplementary issue, published in October 1980, and given way free. Bands featured included Black Flag, Bob, Cosmetics, Crime, DOA, Feederz, Gears, Lewd, Nervous Gender, and others.
Issue 10 featured Howard Devoto of Magazine on the cover, and featured articles on Secret Affair, members, and Amos Poe.
Issue 11, released December 1980, was devoted to the Los Angeles Hardcore Punk scene, "LA Hardcore: The Suburbs Strike Back" by Jonathan Formula; also featured were Black Flag, and The Circle Jerks from L.A. and from New York, Bush Tetras, DNA, dB's, and Cheetah Chrome.
Issue 12/13 was released June 1981, and included Chrome, Delta 5, Echo and the Bunnymen, Rory Erickson, Geza X, Middle Class, Plugz, Raybeats, Siouxsie, James Blood Ulmer, Voice Farm, Robert Anton Wilson, and more.
External Links