Dad.
From ZineWiki
Jump to navigation
Jump to search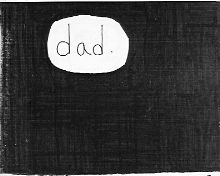 Dad. (2007) is a zine by Timothy Colman, put out in Philadelphia, PA.
Dad. originated with a Fun-a-Day project created in January 2007. The zine was compiled in February 2007, and was first made available at the Third Annual Fun-a-Day Show, on February 17, 2007. The original cover was white. The black covers were created for the second print run of the Dad. Since then, it has been carried by Bluestocking Books, Quimby's, Sticky, Click Clack Distro, False Start Distro, Learning to Leave a Paper Trail Distro, Parcell Press Riot Grrrr Distro, Starfiend Distro, Stranger Danger Distro, and Twelve oh two Distro.
Selections from Dad. were reprinted in Zine Yearbook Volume #9, published in 2008.
External Links