Cygnus Chronicler
From ZineWiki
Jump to navigation
Jump to search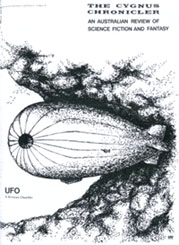 Cygnus Chronicler was a science fiction fanzine edited by Neville J. Angove, and published by Experex Press.
Cygnus Chronicler was published in West Ryde, New South Wales, Australia. It was begun in October 1977 as a fanzine newletter, with the second issue appearing March 1978. It was then relaunched as a small press publication in December 1979, running until 1983.
In their 1999 book Strange Constellations A History of Australian Science Fiction, authors Russell Blackford, Van Ikin, and Sean McMullen write, "Cygnus Chronicler started as a fanzine in 1977 but soon grew to a well-presented, professional looking semi-prozine. It featured fiction by Collins, Chandler, Wodhams, and others, and had some slick original artwork including that of Michael Dutkiewicz."
Aside from these contributors, others included John J. Alderson, Terry Green, Rod Leader, Logar, and Albert Vann.
External Links