Current Resident
From ZineWiki
Jump to navigation
Jump to search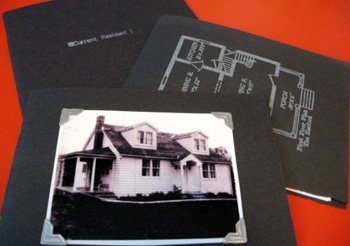 Current Resident is a zine made by Krissy Durden from PonyBoy Press.
Portland, Oregon, U.S.A. is the home of Ponyboy Press and where Current Resident is published. Originally Current Resident was the sub title for a zine called "Imaginary Life", but reprints have changed with each issue till the name became Current Resident only.
Current Resident is a zine filled with what Krissy calls 'house fictions'. Each issue has several vintage pictures of houses. Just houses, no people. Then Krissy supplies the stories of the houses and some of the people who spent time there long ago.
Krissy has explained a bit of her process before and says that it can take sometimes years to write the zine. When she is in the mood to work on it, she will sometimes stare at the many house pictures she has and still no story will come. Then at some point a line will come and the rest then just flows.
Current Resident currently has four issues. The first was published in 2002. The most current in 2012.
External Link
PonyBoy Press[1]