Cunt
From ZineWiki
Jump to navigation
Jump to search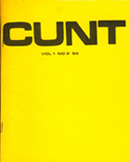 Cunt is a queer zine by Rachel Pepper, published in San Francisco, California, U.S.A.
A few issues of this cut and paste publication were released in the early 1990's. The zine was filled with photos, comics, letters from readers, articles, news, rants and lots of fanzine reviews. Volume 1, No. 2 featured articles on safe sex for women from a WHAM! flyer written by Carol Queen; "And I Don't Even Smoke", a story about making a poster for Queer Nation that upsets the politically correct members because it features a woman smoking, which inspires Rachel to do a photo spread of "smoking babes"; an article about SPEW, "the homographic convergence"; a tribute to WHAM!" (Women's Health and Mobilization); "Why Women Are Angry" with excerpts from the zines Hothead Paisan and Madwoman; a feature on Dyke photographers, including Jill Posener, Della Grace, Gon Buurman, Jessica Tanzer and Kiss & Tell; "Closeted Baby Dykes On A Rampage!" by Amanda Hill; "The Queen of Queer Ennui" by the editor, comics by Jennifer Camper, and a photo of Rachel Pepper in a Bimbox t-shirt.
Cunt V.1 No. 2 was a split zine with Prick. Contributors included Jennifer Camper, Angela Dawn, Amanda Hill, Jackie, Kris Kovack, and Caryl Shaw.
External Link