Cloth Ears
From ZineWiki
Jump to navigation
Jump to search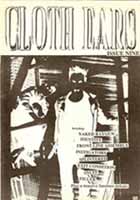 Cloth Ears was a Herne Bay, UK based fanzine produced by Andrea Johnson.
Cloth Ears was published from 1983 till 1990, and contained a good mix of interviews and reviews from the UK indie music scene of the time. In conjunction with the zine, the editor also produced a series of compilation cassettes with tracks from acts featured in the fanzine.
Musical groups featured included Naked Raygun, Identity, Front Line Assembly, Instigators, Exit Condition, Snuff, Filler, and Splintered. Richard 'Richo' Johnson of Splintered also did Grim Humour zine and ran the Fourth Dimension music label.
With Cloth Ears issue 5 came a cassette featuring Lean Steel, Playground (with a cover of Flipper's 'Sex Bomb'), Attrition, Celestial Orgy, Instigators, Bastard Kestrel, Salad Speech, Thrilled Skinny, The Venus Fly Trap and more. It was released in an edition of 250 in 1988 and packaged with stickers and an A5 booklet.
Issue #9, released in 1990 contained a special feature on writer D.F. Lewis.