Check-out Chuck-out
From ZineWiki
Jump to navigation
Jump to search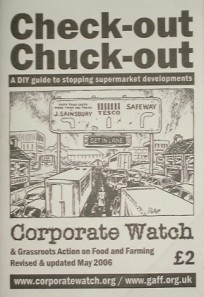 Check-out Chuck-out is a 68 page zine produced by Corporate Watch and Grassroots Action on Food and Farming. It is subtitled a DIY guide to stopping supermarket developments and provides practical advice on resisting the spread of evil multinationals.
There is a large section on building the case, a piece on the planning system, a step by step guide to launching the campaign and a directory of useful resources and contacts.
It is sold for £2 and was revised and updated May 2006.
External links