Catscratch
From ZineWiki
Jump to navigation
Jump to search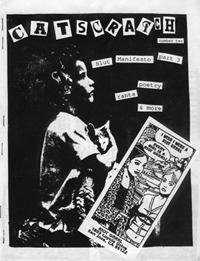 Catscratch is a zine by Spirit, published in San Jose, California.
Spirit (Demerson) was a member of Riot Grrrl San Jose. In Catscratch, she writes about her plans for the group and includes posters she made for the group. The article "Please Ignore" talks about the media's attempt to exploit Riot Grrrl. "Slut=Smut" is a recounting of Spirit's troubles with school administration for her attempts to reclaim the word 'Slut', which she used on stickers she'd made. Included are the "Conditions of Suspension" from her high school, which notes she is in "willful defiance of school rules". After being forced to remove the stickers from her cap and t-shirt, she made up posters and distributed them around the school to explain her use of the word. Also included is part three of the "Slut Manifesto" by Lizzard Amazon. Another form letter from the school is a 'Student Referral' which states "Student in possession of obscene magazine - 'RIOT GRRRL'". There are articles on the San Jose Food Not Bombs group which Spirit is part of as well, a critique of Anarchy in the punk scene and a write-up of Hissyfit, a Riot Grrrl band as well as a zine made by the members of the band.
Catscratch came out in the 1990's.