Casablanca
From ZineWiki
Jump to navigation
Jump to search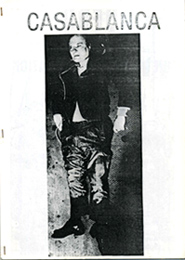 Casablanca is a zine published by Christophe Bourseiller from Paris, France.
The first issue of Casablanca was released Septembre, 1984, and is 14 pages total. The main theme of the zine was Mail Art and Copy Art, but in later issues began to feature underground culture.
Issue 3 featured a mail art call dedicated to War or Peace, USA or USSR.
Issue 5 was released Janvier 1984, and is 26 pages total, size 8 ¼" x 11 5/8" on black and white paper, stapled; it featured lots of art and editorials in English and French, including "Greater Success In Apprehension & Convictions" with Leif Thuresson; "3Rio Tapes and Communication" by Magthea; "The New National Front" editorial; Ministry of Culture listing of albums, including Tribal Noise and The Wraith; A Personal Message from the Temple ov Psychick Youth.
Other issues featured poetry by Philip Best.
Six issues were published.
Since publishing his zine, Christophe Bourseiller has written 40 books, such as Generation Chaos, L'extremisme, Mai !981, Les Maoistes, and Lutte Armee. He has appeared as an actor in 25 films, beginning with The War of The Buttons (1962) by Yves Robert, and including such films as A Married Woman (1964), Two or Three Things I Know About Her (1965), both directed by Jean-Luc Godard; Ones and Others (1980) by Claude Lalouch; Three Places for the 26th (1988) by Jacques Demy; and most recently Love Lasts Three Years (2012) by Jean-Paul Bazziconi. He also appears on French television, and has hosted a radio show in France.